Conversations with Yeshua.  This is channeled material, edited minimally for clarity only. It is personal information given to me and my husband Stan, but relevant to many situations and this is one I am asked to share with the world. 
The questions I asked this morning in late October were about my personal health challenges at the time, along with the political landscape and chaos.   This was the response.  
You have to remember that long sought-after change frequently arrives in the midst of what could either be called chaos or challenges.
The change that you wish for is radically different enough that just coming on a clear blue-sky day doesn't happen.  There is a thunderstorm to go with it. And the events of your life then end up being the thunderstorm.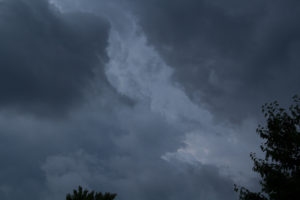 You can interpret them as suffering, but you don't have to. You can interpret them as signs of change instead. Things are being uncovered, things are being revealed –  that needed to be revealed.
Things are being unlearned that seemed set in concrete. Eyes are being opened. Some of this is not comfortable even though it may be ultimately freeing.
You will heal from all of this, to where it's barely a memory. At the moment the best course is to allow the emotions to come and go knowing that they are the waves of thunder and the bolts of lightning. But they don't stay. Behind them all the sun is shining and the Heart of the Divine is always present.
We will give you the answer to all, which we say, tongue in cheek… the answer to all is: do your research, learn, explore, use your intelligence.. then let go. And trust the miracles.
Do your research. Trust the miracles.
Remember this one. We are glad you come to listen. You are doing well.
Conversations with Yeshua.  All rights reserved Linda Chubbuck 2017.